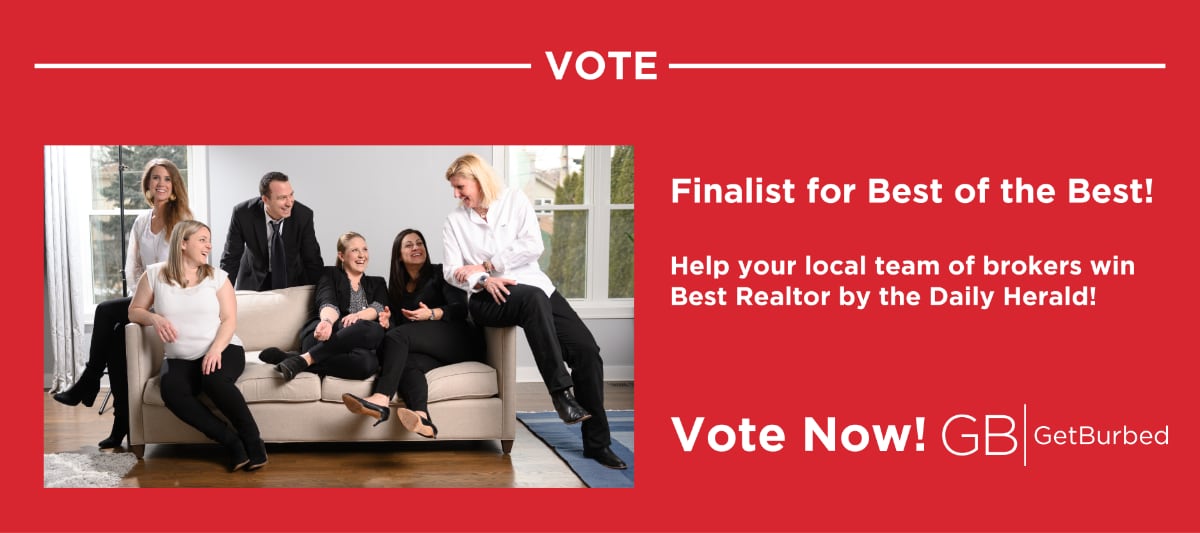 The Daily Herald
Finalist for Best of the Best! Vote now to support your team of local real estate brokers! Thanks for nominating us! The polls will be open till May 24, 2019.
Thank You
Our biggest source of success is getting a deal done in a timely manner that satisfies our clients' financial goals. It's why we have repeat customers, stellar testimonials, and thrive on word-of-mouth advice of our neighbors. Awards and honors from our peers are a welcome reflection of what we do and how we do it. No matter what, we couldn't have done it without you. Thank you!
#1 in Arlington Heights
2018 was a banner year for our parent company, @properties, and a record-breaking year for our GetBurbed team, led by Holly Connors. Chicago-based @properties was the top brokerage firm in Chicago residential real estate and GetBurbed was #1 in sales out of the new office in downtown Arlington Heights, where we live, work, and play. GetBurbed's best year on record came at a time when sales dipped 3.7 percent in the area in the second half of 2018.
Holly joined @ when she was 20 and helped support us when we were a very small company.. and over the years, we have watched her grow a successful business in the city and now in the Arlington Heights area.

– Mike Golden, Co-Founder of @properties
$400 Million in Volume
Holly Connors eclipsed the $400 million mark in lifetime residential volume in 2018. The achievement, in more than 15 years of businesses, is a testament to her knowledge, tenacity, dedication, network, and unyielding commitment to her clients.
"We are incredibly proud of the business she has created and very grateful that she chose to do it with @, even when we did not have an office in her area," Golden said. "Her success is a testament to her talent, dedication and hard work!"
Crain's Chicago Business' Notable Residential Real Estate Broker
Crain's Chicago Business credited Holly Connors as the Notable Residential Real Estate Broker in 2018. Based on nominations from her peers, then vetted by Crain's Chicago Business editors, Holly was part of a select group. "The 134 brokers on this list are among the Chicago area's highest-selling producers…closing a minimum of $20 million in home sales in 2018, a year when the housing market slowed," Crain's editors wrote of the honor.
Top 50 Agents in Illinois
In 2018, Holly Connors earned best real estate agent in Illinois distinction by ranking in the top 50 in volume in the state of Illinois, according to www.RealTrends.com.
Top 1 percent in Chicago Association of Realtors
The Chicago Association of Realtors, a membership group of more than 15,000 agents in the Chicagoland areas including Cook, DuPage, Kane, Lake, McHenry and Will counties, ranked Holly Connors in the top 1 percent in sales volume in 2018.
Silver Award Winner for Volume
Silver Award Winner for Total Units
The Chicago Association of Realtors recognized Holly as a silver award winner for both volume and units in 2018, which is a level achieved by only 25 other residential realtors in Chicagoland.
The awards "recognize the hard work, superior market knowledge, mastery of technology, and industry cooperation" necessary "to bring the highest level of professionalism, ethics, commitment and service to buyers and sellers in Chicagoland," according to the Chicago Association of Realtors.
It is our pleasure accepting these awards!