RACE RESULTS RIGHT HERE!
5K RUN | 1 MILE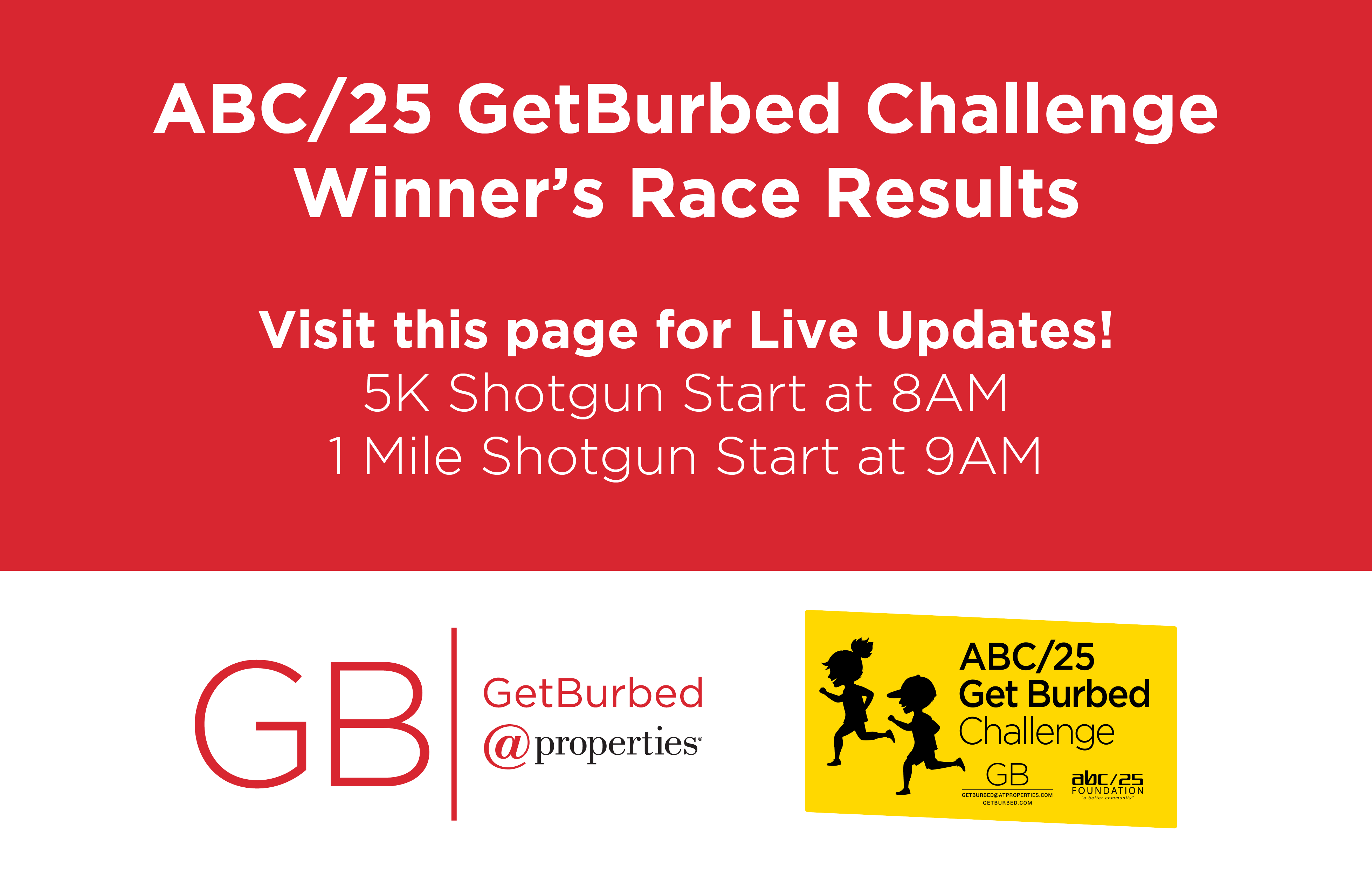 The abc25 GetBurbed Challenge brings together GetBurbed, a division of @properties, and ABC/25, a non-profit organization that awards grants for teachers at the nine area schools in District 25, to promote healthy living in a fun family event that celebrates the Arlington Heights community!
"GetBurbed is a huge advocate of healthy kids contributing to a healthy community with a good education," said Holly Connors, founder of GetBurbed, and @ properties. "Education is about more than classrooms and homework, it's about being a part of something bigger. And this event ties in all of those things, fun and fitness and making our community better."
The race through downtown Arlington Heights consists of either a 5K or 1-mile run or walk, with awards given to the top three male and female finishers in more than a dozen age brackets, from under 4-year-olds to over 60-year-olds. Annual participants clomping through the tree-lined streets of Arlington Heights ranges from 700 to 1,000, according to race organizers. Some walk, some run, all seem to have fun. Chip timing is included! An expo and awards ceremony follows the April 25th event, with music, liquid refreshments and a silent auction with unique gift baskets and experiences.
The $30 fee ($20 for ages 17 and under) includes a race t-shirt designed by contest winner and Windsor student Sydney from Olive Mary-Stitt Elementary School.

Proceeds go to the ABC/25 Foundation, which in school year 2018-2019 distributed more than $69,000 to teachers in nine District 25 schools serving the Arlington Heights community. That money goes to teachers or principals who submit grants for initiatives in the classroom that don't fall under the normal allocation of school resources.
"We feel these grants can help foster ideas and support new innovative ideas for educating our kids," said Diane Liigsoo, race co-director and ABC/25 Board of Directors.
For example, a few years ago, a teacher wrote a grant for iPads in the classroom, and ABC/25 was able to fund that grant, Liigsoo said. Over time those initiatives grow and can become standard, such as Chromebooks now for every student in District 25's South and Thomas middle schools.
"Our schools are such an elemental part of what makes Arlington Heights such a great place to live," added Connors, who lives, works and sends her kids to school in Arlington Heights District 25. "We love it here, our kids love it here, and we want to continue to support a quality education system and sting community roots."
EVENT DETAILS
Date and time: Saturday, April 25, 2020 at 8 a.m. 5K and 9am 1 mile
Location: South Middle School, 400 S. Highland Ave.
Fee: Adults $30, $35 after 3/22/20,
Youth (17 and under) $20, $25 after 3/22/20
Register by 3/22/20 and your race packet will be delivered to your D25 school
abc25challenge.org
|
Email
|
Facebook
|
Sign up now!